News article category
Workplace and people
Keller UK is offering new recruits to engineering a different route to getting their qualifications by employing their first Civil Engineer Degree Apprentices.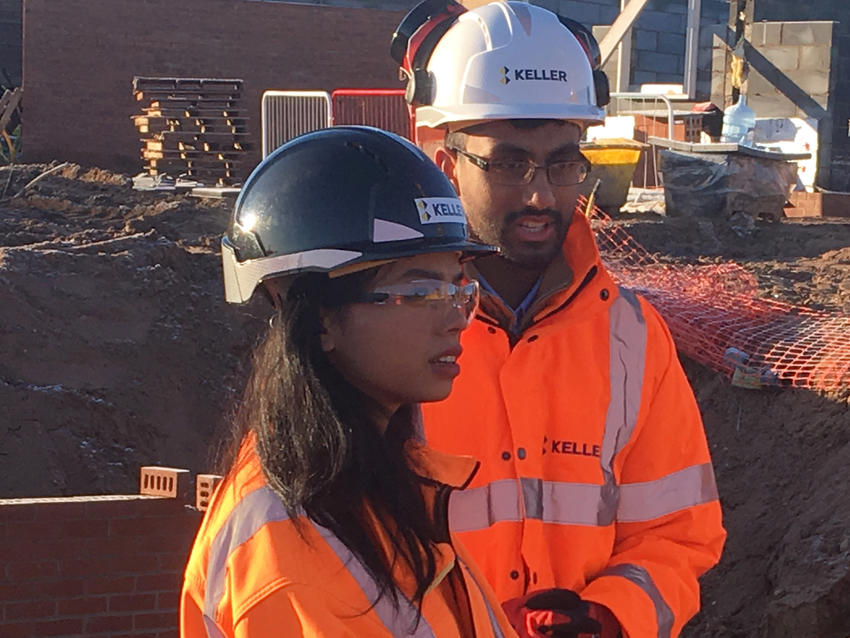 Thidath Pathinayake and Sabrina Irfan began their five-year BEng (Hons) Civil and Infrastructure Engineering degree course in October last year and are dividing their time between gaining valuable work experience with Keller and studying at the University of Warwick.
The pair will also be incorporated with the Institute of Civil Engineers when they graduate.
"This is a great opportunity to study without incurring any debts," said Thidath.
"I wanted to do engineering and researched different sorts. Then I saw this opportunity with Keller and the University of Warwick on the UCAS site and it looked ideal.
Work experience
It's great to have the opportunity to learn and gain work experience at the same time. The ICE incorporation is an added bonus."
Sabrina found out about the apprenticeship by looking on the www.gov.uk website and after doing some research about Keller, she decided to apply.
Sabrina: "I've always liked engineering, maths and buildings. I was impressed about what I read about Keller and that made the apprenticeship even more attractive," she said.
The pair have been allocated different departments within Keller – Sabrina with the ground improvement department and Thidath with piling.
During their time with the company they will work in all the different divisions, gaining valuable work experience about geotechnical engineering as well as spending a week a month at university.
It's a pretty intensive schedule but one they are enjoying.
"The rotation is good to give us a chance to see everything and decide on what we like", said Sabrina.
"Combining full-time work, study and getting incorporated is hard work but it's worth it."
Excellent training
She is currently helping with projects in the ground improvement department doing some estimating and layouts.
"Having just completed my A-levels I'm new to the office environment," she said. "But I have already learned a lot. It's a really good company and the training is excellent."
Thidath is enjoying working as part of the piling team and helping the estimators preparing tenders for work.
"They are a very professional outfit and everybody is very helpful. You are being challenged every day," he said.
Amrit Ingham, Keller UK HR and Training Manager, said: "Apprenticeships are a great way for Keller to secure future talent. They can help to support our growth by getting people in at the beginning of their careers and provide them with the right skills and support throughout their apprenticeship.
"Our apprentices benefit from ongoing mentor support throughout their apprenticeship. This allows us to ensure that the skills developed are matched to the company's future needs.   
"Both Sabrina and Thidath are making a valuable contribution to the workplace while they are learning at Warwick University."