News article category
Project
Two Keller UK divisions have been working together to develop a new, bespoke pile monitoring system on a prestigious project in the heart of the City of London.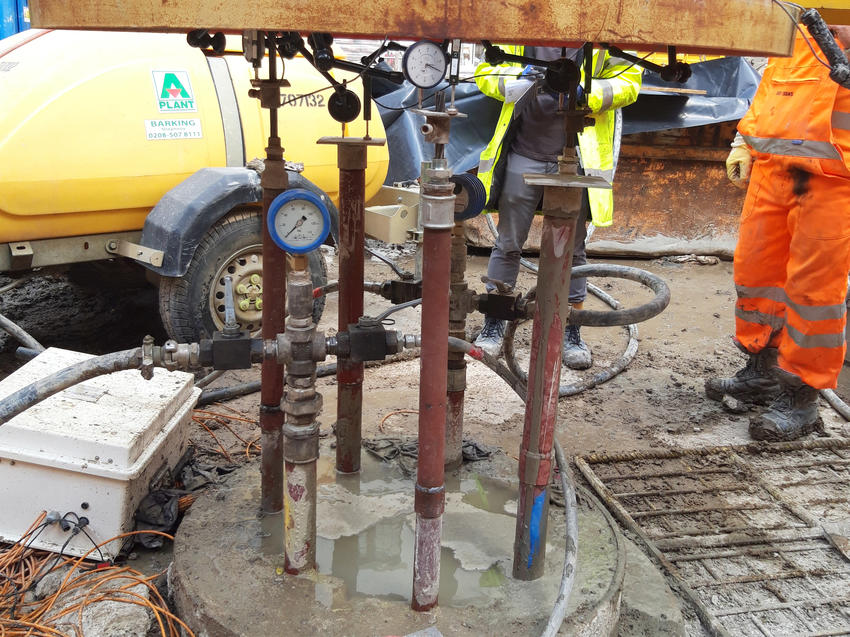 Teams from GEO-Instruments and the Geotechnique division are on site at 8 Bishopsgate carrying out monitoring and jet grouting works on behalf of main contractor Keltbray.
Keltbray are installing piles of diameters varying from 1.5 to 2.1 metres to a depth of 64 metres. The geology of the site consists of London clay and Thanet sand. These conditions require the piles to be base-grouted to increase stability and improve the bearing capacity.
Keller has been employed to undertake the base grouting works, based on extensive experience of similar projects. The process requires grout to be injected at depth, using high-pressure grout pumps. Subsequent uplift of the piles is monitored to judge the effectiveness and consistency of the base-grouting.
Usually, this uplift monitoring is done using an anchor strand inserted to the full 64 metre depth. The strand is then removed and re-inserted at the next pile position, requiring the use of a crane.
Measure displacement
However the Geotechnique and GEO-Instruments teams came up with a new monitoring system installed alongside the anchor strand method.
The system, which is still in its trial stages, uses multiple VW (vibrating wire) extensometers to precisely measure displacement. Data from the sensors is collected on site at a logger then processed in custom software developed by GEO-Instruments for this application.
"Our aim is to judge how it compares to the traditional method as a more efficient, safer alternative," said Mihhail Lonkin, GEO-Instruments' monitoring manager.
"A potential key benefit would be to eliminate the need for the repeated lifting of an anchor strand between tested piles.
"The job has required close collaboration between the Keller divisions to carefully control the experiment and ensure the successful performance of both systems," he added.
Located next to the iconic Cheesegrater, the 8 Bishopsgate project is still in the early stages of construction. When complete the tower will be 50 storeys, 221 metres tall and provide 56,0000 square feet of offices, retail and public space. Construction began in early 2019 and is planned for completion in 2022.