News article category
Strategy
Keller UK is on a mission to cut carbon emissions, making great progress in recent months by slashing energy consumption, introducing electric vehicles and using the latest, most efficient rigs. But as Finance Director Will Reid explains, there's more to do and the key is employee engagement.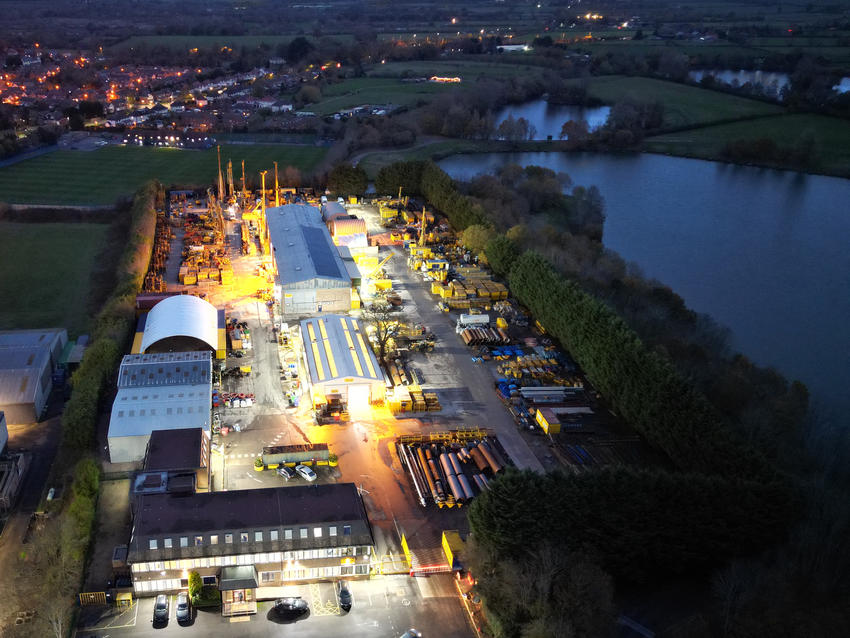 It might not be the most glamorous or innovative solution, but a simple change at Keller UK's Ryton headquarters has helped cut office and yard energy consumption by almost a fifth since 2019. Replacing all lighting in the office, workshops and yard with LEDs has boosted the business unit in its strategy to significantly reduce Scope 2 emissions (indirect emissions from purchased energy) over the next few years.
"Sustainability is essential to the long-term future of our organisation and the planet," says Will. "Cutting our emissions is not only the right thing to do morally, but it's also demanded by stakeholders such as investors and, increasingly, our clients.
"Sustainability and carbon reduction are often factored into major tenders, particularly public sector projects, and we're being judged on our record. We recently submitted a bid for a £40 million contract and sustainability made up a third of the scoring."
A bigger solar system
Alongside the lighting, Keller UK is installing double-glazed windows to reduce heat loss and has just renewed its photocopier leases, reducing the number of machines by a third.
An energy saving and opportunity survey in 2019 helped Keller identify less-obvious areas for potential improvement, such as installing a heat-recovery system in the paint shop. Ryton has had solar panels for several years (generating more than £60,000 of savings in the last decade from reduced electricity purchased and feed-in tariffs) but these only produce around five to seven per cent of electricity consumed. The aim is to reduce energy use and increase the number of solar panels in the coming months so the office can be more self-sustainable.
In the meantime, Ryton has switched to certified green energy tariffs, which means all electricity comes from renewable sources. But Will is keen to stress that this is not a magic solution – renewable energy in the UK is limited, so reducing electricity consumption and becoming self-sufficient still needs to be the goal.
More efficient rigs
Keller's biggest source of Scope 1 carbon emissions is its rigs. "We've used the opportunities on HS2 [the UK's largest-ever rail infrastructure programme] as a springboard to invest in and thoroughly modernise our fleet, so the vast majority of machines are now using the latest engine technology to reduce emissions.
"Working with our partners on HS2 also allowed us to trial an electric rig, whilst we successfully trialled hydrogenated vegetable oil [HVO] fuels for our existing diesel equipment. We're keen to keep pushing in this area, adopting lessons learned from our other projects, and working closely with our supply chain to trial new technologies as they are developed."
Rig emissions are classed as Scope 1 (those directly produced by Keller) and Will's plan in the near future is to build a clear strategy for reducing them. One of the ways Keller UK is doing this is by changing its company car scheme to offer electric vehicles. Tax incentives and lower running costs, he says, have made this a 'no-brainer'.
All ideas welcome
Will admits that much of what has been achieved so far comes from identifying the low-hanging fruit – the easiest changes that make the biggest impact – something he suggests other business units do if they're looking to cut carbon quickly. However, he knows the next phase will be more challenging.
"Time and money are limited, so we'll be tackling things one step at a time," he says. "We have a carbon hierarchy – we compensate and substitute where it's quick and easy to do so, but we can't lose sight of the fact that we need to reduce and eliminate emissions as much as possible."
One way he hopes to do this is through a greater focus on Lean. Last year saw the hiring of a new Lean Construction Manager who's focused on reducing overall waste and creating efficiencies, which is likely to have a positive knock-on effect with emissions.
But the key to achieving more will come from greater employee engagement. "We want to encourage and maintain more two-way feedback. We've already started to receive ideas for improvements and we need to keep people updated to show progress and build momentum. Employee engagement is going to be really important for us in our future initiatives and everyone has a part to play."