The A465 is a key strategic corridor connecting the M4 in South Wales to England. A study in the 1990s identified that improvement of the road was critical to the social and economic regeneration of the Heads of the Valleys area.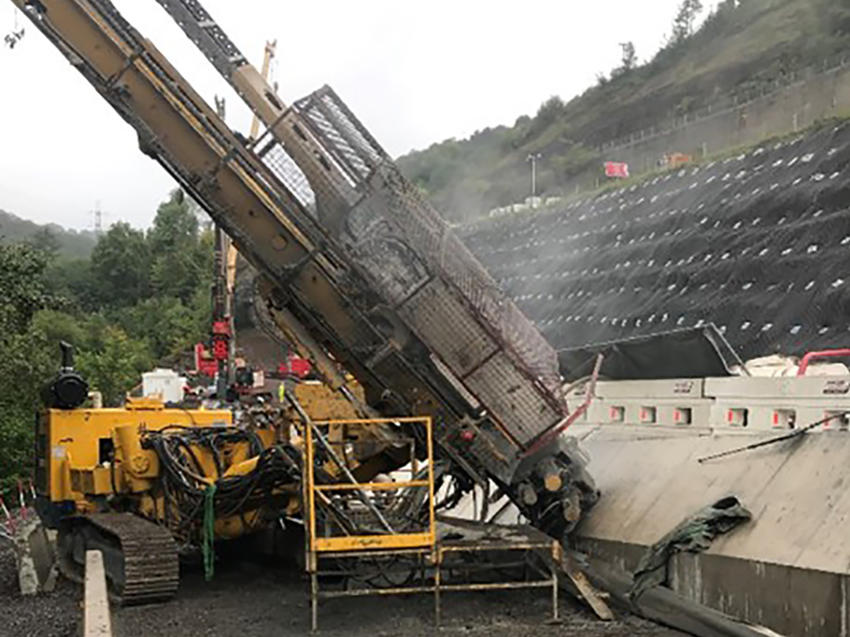 The project
Retaining wall 14/14A of the Heads of the Valley relief road works is a critical section of works to allow widening of the valley road. The anchored retaining wall, allows support for the Phi Group Textomur reinforced soil embankment above to allow construction of the road.
The challenge
Keller were employed to install rock anchors, up to 13 strands and depths ranging up to 45m, with rock socket lengths of over 20m into the underlying sandstone/ironstone and mudstone rocks. The working area was very narrow and near protected trees and overhead cables.
The solution
The client's designer wanted assurity in the installation through the overburden, so Keller used the Numa Superjaws system to install the 220mm mild steel casing. A 190mm rock socket was then formed using a Numa P60W rockdrill down the hole hammer. To minimize dust, Keller employed a Manifold DTH Hammer Lubrication Unit and Foam/Mist Pump designed and built by Stratum Drilling Solutions, to dampen the air flush and reduce the dust produced by the drilling operation. Stratum also supplied the double welded casing shoes and lead lengths to ensure no damage or shoe loss during the drilling. In total, 70 anchors with designed loads of approximately 1300kN were installed and stressed ahead of programme and on budget.