Three years of planning resulted in the construction of retaining walls to complement the layout of a large housing development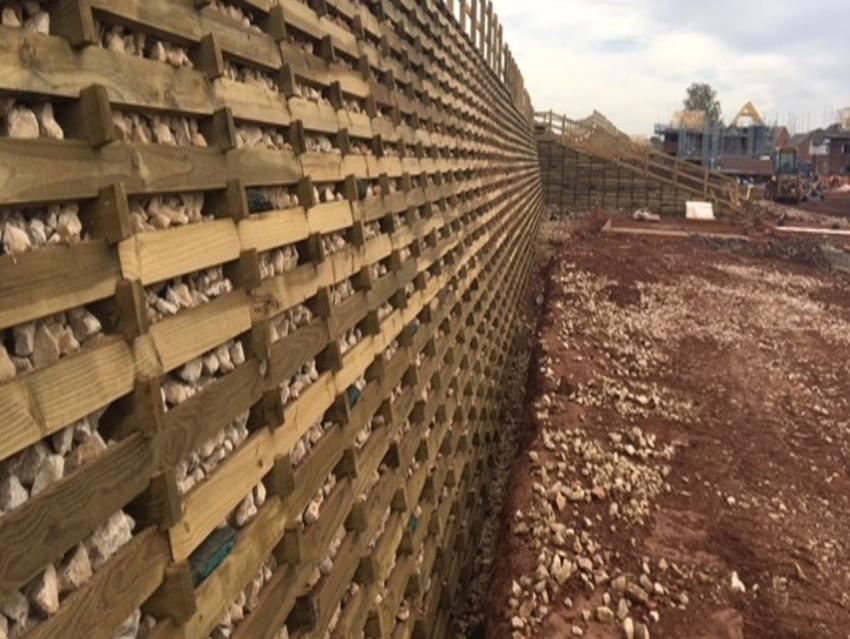 The project
Bellway Homes undertook the development of a large housing development in Tamworth, close to their offices. Even though the actual construction of the Permacrib walls took place in 2018, Phi Group started the design process and discussions with Bellway Homes and their engineers Travis Baker, in late 2015.
The challenge
The main challenge was identifying during the design stage how the two Permacrib retaining walls interacted with other structures on site, such as garages and housing plots. Through continued co-ordination, a suitable retaining wall layout was arrived at. The construction was more straightforward, with long runs of Permacrib retaining walls to build.
The solution
Two Permacrib timber crib retaining walls were constructed on site, with a total length of 270m, an average retained height of 4.0m, and a face area of nearly 1,000m2. A perfect project to highlight the economic benefit Permacrib has over traditional methods of retaining. Speed of construction is a key benefit, with 25m2 a day face area constructed with ease.