Keller were asked to provide a ground engineering solution for a continuing landslip remediation project on the East Coast mainline in Morpeth, Northumberland.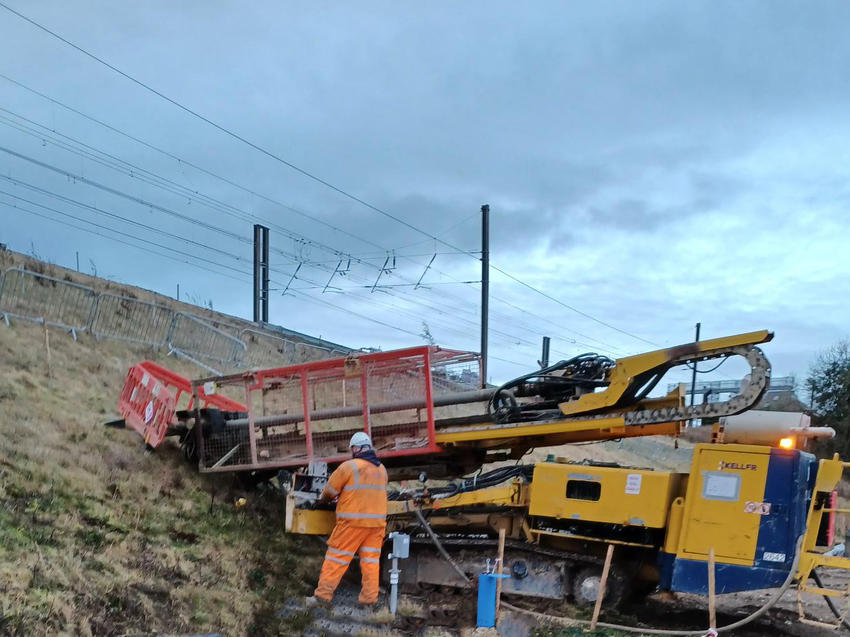 The project
The Keller Joint-Venture team, in collaboration with Network Rail, Story Contracting and scheme designer Pell Frischmann, came up with a plan that involved the installation of rotary bored piles with full length Circular Hollow Section reinforcement through difficult ground conditions.
The challenge
To ensure a robust construction sequence and methodology agreed from tender consultation to execution on site. Keller ensured the full insertion of 25.0m long 610mm dia. CHS reinforcement comprising of various certificated welds. This  provided our client with a solution which caused no disruption to Network Rail infrastructure, no any additional landslips during the construction phase and the future proofing of this challenging topography.
The solution
The installation of 880/750mm dia. Rotary Bored bearing piles comprising of 132No. 25.0m piles, cased to 22.0m and 75No 18.0m pile, cased to 14.0m with all piles being reinforced to full depth with a 610mm diameter, 30mm thick CHS tube. Coupling, welding and testing of the sectional CHS were undertaken on site utilising bespoke Keller piling rigs. All stages of the work were carefully planned and executed, delivering a safe system of work to the client.
Watch a video of the project
Bored piling at Blue Mountain Permanent Remediation project, Morpeth