Following a series of flooding incidents since the 1953 Great Storm in which many lives were lost, Great Yarmouth's flood protection was significantly upgraded.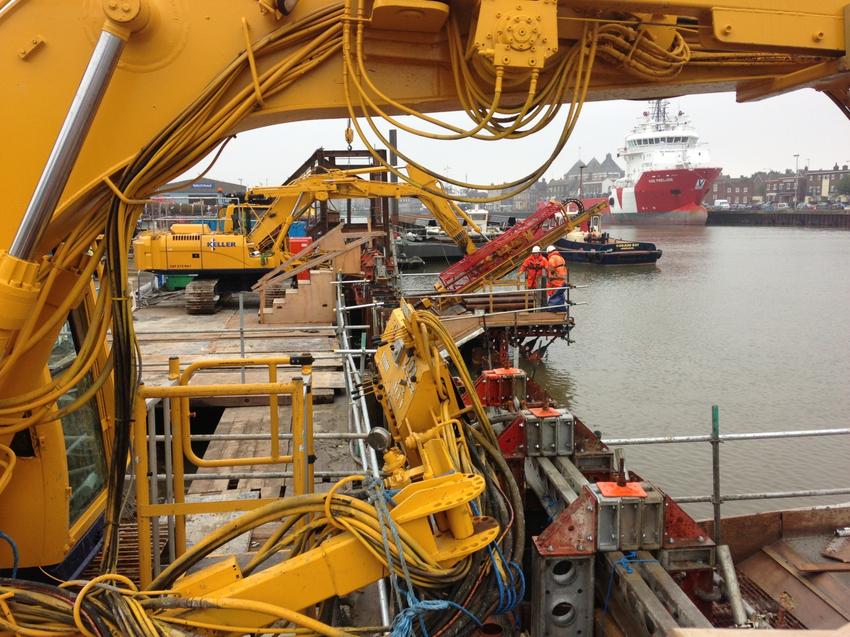 The project
Keller were awarded the contract to install and test both the Preliminary Trial Anchors for Walls 91-95 and the Main Wall Permanent Anchors for Wall 91-92.
The challenge
Previous Site Investigation boreholes had indicated that suitable founding strata in this area of Great Yarmouth, was at considerable depth  (in excess of 15-20m) and of marginal quality for the anchor loads (c. 800kN Axial SWL) under consideration.
The solution
Four vertical trial anchors were installed at intervals behind Walls 91-95 at depths ranging from 26-31m. The trial tendon comprised 5 SBMA units each of 2 No 18mm Dyform prestressing strands - Ultimate Tendon Test Capacity = 3040kN.
Cyclic Trial Testing (to BS 8081) mobilised ultimate grout/ground bond stresses (failure) for the majority of the SBMA units allowing back calculation of working SBMA units capacities and lengths to suit the design requirement for an Axial SWL of 804kN at an average declination of 300.
The drilled length required to reach the founding strata plus the SBMA overall fixed length of 21.0m resulted in installation lengths of 58 to 62m from entry level.
Working anchor installation was carried out over the River Yare using two specially adapted CAT 315 excavators and drill masts.
Installed Working Anchor requirements are summarised:
Axial SWL: 754kN
Declination: 27.7/32.50 alternate
Spacing: 1.45m avg.
Installed Length: 58.0/64.0m alternate
Project facts
Main contractor(s)
Interserve Construction Limited