A tricky problem of building next to live services and a sewer was dealt with using with a combined low vibration Rigid Inclusions and King Post Wall solution which was approved by Thames Water.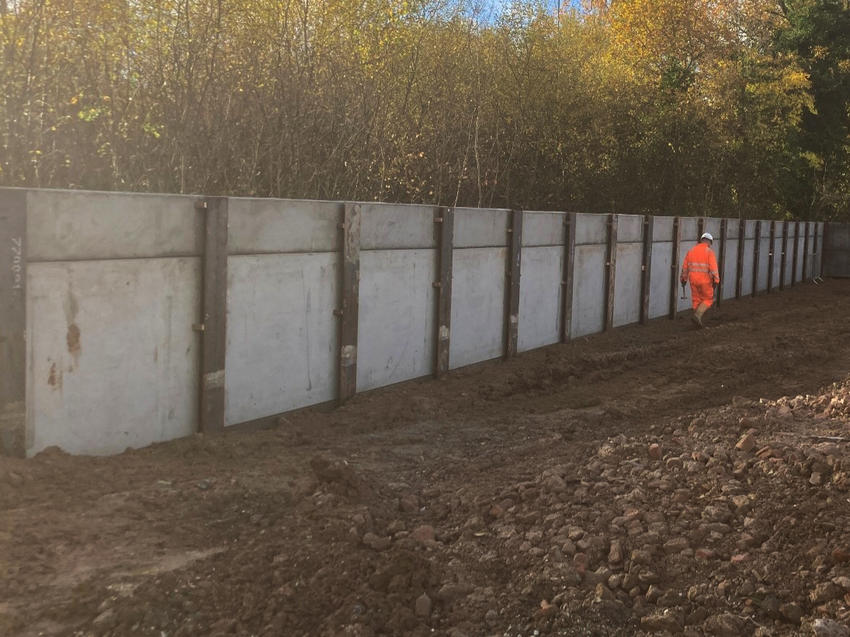 The project
The construction of a 27,000 sq ft warehouse on the site of an existing office block development. 
The challenge
The main challenge was to provide a foundation and retaining wall solution through up to 4.0m of made ground and low strength clays while minimising vibration onto adjacent live services which included a large diameter Thames Water sewer. The Main Contractor was also keen to avoid fully suspended construction and to adopt a retaining solution that maximised the building curtilage.  
The solution
For the retaining wall, 43 No UC sections 256x256x89 were installed to lengths of up to 9.0m and drilled using low vibration CFA methods. The installation works were carried out using a smaller rotary rig which enabled us to access positions tight to the site boundary. The posts were completed in a little over a week with the panels inserted at a later date. 
For the Foundations, 429 No circa 10.5m long 300mm diameter unreinforced RIs were installed using cast in-situ construction methods.   The installation works were designed to achieve 175kN/m2 beneath the foundations and 50kN/m2 beneath the floor slab areas of the proposed warehouse.   
The main consideration for the foundation solution was the presence of a sensitive circa 10m deep 1200mm diameter Thames Water (TW) sewer located just 3m away from the proposed building – as illustrated opposite.
Keller adopted a vibration free auger-replacement method of installation for these works to avoid the risk associated with heave and vibration and to secure the approval of TW.
The installation works were completed in a little over two weeks and facilitated rapid follow-on works comprising simple reinforced shallow foundations which could be excavated while the RI columns were fresh. For the slab areas, Keller installed and cropped the columns to permit the installation of a ground bearing floor slab which could be cast directly onto the rolled and compacted surface of the load distribution layer, all designed by Keller. 
Project facts
Owner(s)
Legal & General Assurance Ltd
Main contractor(s)
Harmonix Construction Limited