News article category
Workplace and people
To mark International Women's Day 2023,  we spoke to Keller Women in Construction Europe committee member Anna Furtak, who is a Project Manager for our sister company GEO-Instruments. We discuss career, the importance of diversity – and looking after pet snakes.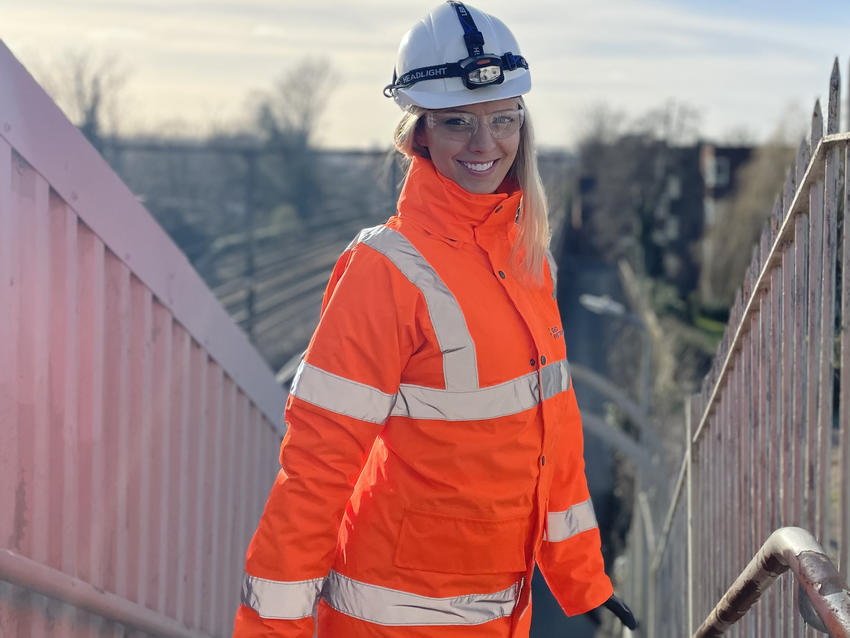 Hi Anna. When did you join Keller?  
 
March 2022, which was right after my maternity leave. While it's an unusual time to start a new role, I'm extremely grateful for the fact that I was supported every step of the way, and able to make the most of it.  
 
The early days were challenging due to lack of sleep, but coffee became my best friend (and so it's remained ever since)! Everyone I met was very nice and understanding, and as I got into the swing of things it got much easier. I'm sure many working parents can relate!  
 
What encouraged you to join us?  
 
I've known GEO-Instruments and Keller from working with them on past projects with my previous company. So I actually already knew a lot of people from the very team I was about to join, and had really enjoyed working with them.  
 
I thought it was a great time to join Keller, with exciting new projects in the pipeline. The shortage of skilled people in today's market was a real opportunity for my skillset to be efficiently used in the project management role. My experiences through the years have helped me gain the knowledge to make an impact.  
 
And what were you doing before?  
 
After obtaining a master's in engineering, I worked as a land surveyor and in photogrammetry for a while. I came to the UK from Poland in 2011 and joined the Crossrail project as a surveyor, subsequently moving into a database manager role.  
 
This is the time I look back on most fondly. The work was new and exciting and it allowed me to grow my skillset. It's also when I met some of the great people I work with today. I then worked in monitoring in various companies as a database manager and project manager.  
 
I wanted to get out of my comfort zone, so at one point I tried my luck in business development and technical support roles for a monitoring instrumentation manufacturer. However, I ultimately didn't want to compromise on my career in project management, which is why I'm here today.  
 
I value all of these experiences as they allowed me to see the sector and various businesses from many enriching perspectives.  
 
What do you enjoy most about your job?  
 
Working as part of a great, dedicated team is definitely at the top. Each colleague has different experiences and can bring value to the table, proving that diverse perspectives truly help create innovation and improve our collective problem-solving skills.  
 
I love getting many people from different backgrounds in one room and having a brainstorming session on complex issues. It allows us to see a problem from different angles, and very often someone comes up with brilliant solutions that I would not have thought of myself. Exposure to opinions and ideas really helps us grow individually and on a team level. The world would be a very boring place if we were all the same, especially in our industry!    
What do you find most challenging?   
In my role I often face difficult decisions with little time to make them, so managing anxiety would be at the top of my list of things I could do without. Working under time and budget pressures in such a fast-paced environment can be difficult, but the sense of achievement on delivering successfully makes it all worth it. With the support of my team and leadership guidance, I like to believe that I'm getting better in leading by example. I'm not perfect (yet!), but we all try our best.  
What are the most important things to you in your personal life?  
 
My family and my two-year-old son – spending time with them and caring for them. To be around them for years to come and in the best shape it's important (and not easy) to focus on self-care. I try to spend a lot of time outdoors or swimming. I also love cooking healthy meals and fast occasionally.  
 
Mental health is important, so I sing, read books, travel, meditate and – crucially – allow myself to rest when I need to. Only then can I be the best version of myself, both at work and home. Oh, and I have two pet snakes! I'm really fascinated by these animals – and no, they're not venomous and don't bite. They love curling up in my lap to sleep.  
Find out more about Keller Women in Construction.